Krishna—This sound is transcendental.

*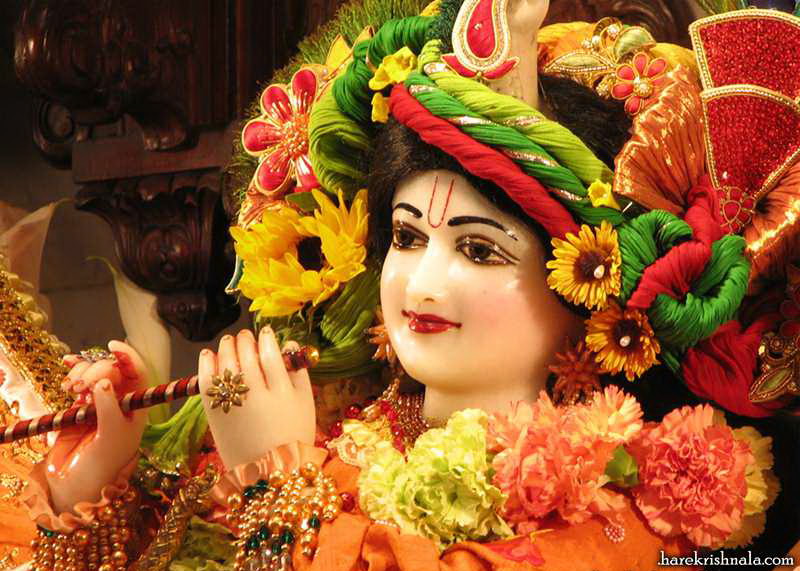 Krishna means the highest pleasure. All of us, every living being, seeks pleasure. But we do not know how to seek pleasure perfectly. With a materialistic concept of life, we are frustrated at every step in satisfying our pleasure because we have no information regarding the real level on which to have real pleasure.
For the last few weeks we have been learning that we are not this body; we are consciousness. Not exactly consciousness, for consciousness is actually the symptom of our real identity: we are pure soul, now merged within this material body.
Now the process we are trying to learn from the Bhagavad-gita (The Song of God) is how to bring ourselves to this level of consciousness. And if we act from the level of consciousness, then we may not be pushed again into the level of this bodily conception.
We have now a finite body. The body which we see is the gross body. It is just like a shirt and coat: within the coat there is a shirt, and within the shirt there is a body. Similarly, the pure soul is covered by a shirt and coat. The garments are the mind, intelligence and false ego. False ego means the misconception that I am matter, that I am a product of this material world. This misconception makes me localized. For example, because I have taken my birth in India, I think myself Indian. Because I have taken my birth in America, I think myself American. But as pure soul, I am neither Indian nor American. I am pure soul. These others are designations. American, or Indian, or German, or Englishman; cat or dog, or bee or bat, man or wife: all these are designations. In spiritual consciousness we become free from all such designations. That freedom is achieved when we are constantly in touch with the supreme spirit, Krishna.
*Excerpt from "Krishna, The Reservoir of Pleasure" - His Divine Grace A.C. Bhaktivedanta Swami Prabhupada
| About Us | Privacy Policy | Contact Us |
Presented by
The International Society for Krishna Consciousness
Founder Acharya His Divine Grace A.C. Bhaktivedanta Swami Prabhupada
©2016 ISKCON Los Angeles